Anisha Dutt is a certified Law of Attraction Practitioner by the Global Sciences Foundation and,
Instructors: Dr. Joe Vitale, Star Of The Hot Movie "The Secret" Author Of Over 50 Books Including The Attractor Factor And The Key & Steve G. Jones, NLP Master Trainer, Board of Directors Member: American Lung Association (LA Chapter), Member: American Board of Hypnotherapy, Member: National Guild of Hypnotists • Founder: American Alliance of Hypnotists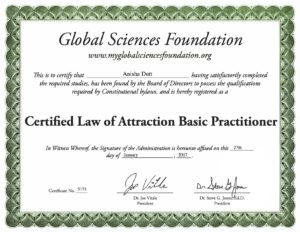 By mastering the mechanics of the Law of Attraction you will now effortlessly learn to attract all that you desire and help others to do the same. You will learn to:
Discover the role of thoughts and emotions in manifesting desires and Identify stumbling blocks to your success that are emanating from the unconscious
Transmit the right messages to the Universe to manifest abundance and health
Harness the power of thought to create and receive anything you want in life
Avoid the common errors that prevent people from attracting what they want
Understand the connection between our thoughts, our desires and what you are actually receiving from the Universe
Utilize the concept of magnetism in the context of the law of attraction
Find out why the law of attraction is a primal force in everyone's life
Methodically eliminate emotional blocks that are preventing you from succeeding in attracting desires
Disclaimer: Our advice should not be taken as a substitute for medical advice. Consultancy and energy healing should be used as a compliment to other therapies and not as a replacement for regular medical care and the services offered are based on my particular belief systems around the Law of Attraction, Energy healing and the existence of Angels as healers. Those whose beliefs are aligned to mine are more likely to find results and/or are welcome to contact me for us to create some magic together.